Specialists: Selective Plating

26260 Eden Landing Road , Hayward, California 94545
Phone: (510) 781-5588 Fax: (510) 781-5589
Email: tmartin@platron.com



Design Engineering and Production Applications: Platron can deposit metals that are wear or corrosion resistant, solderable or brazeable, and have better conductivity or other specific properties. These metals are deposited specifically on the area where that property is required. So when designing a component, the engineer can choose a metal with less production problems, less weight, or a lower cost and then add the required property where needed with Selective Plating. Platrons' Selective Plating system can be semi or fully automated to handle a single item and small scale production runs as well as high volume repetitive work.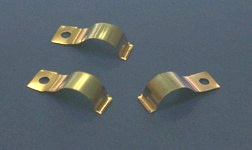 Copper spring contacts used in medical equipment have a band of Rhodium Selectively Plated on the contact areas only. This gives the contact a corrosion resistant hard wearing arc resistant surface with excellent electrical conductivity. Using Selective Plating allows designers to choose an easier less expensive metal to fabricate while having the exact properties they want only where needed.

Electronics Applications

Mechanical Applications

Field Service Applications


---
Electronics Applications
Making materials solderable - Platron Silver on microwave housings in the feed-thru holes only, enabling the components to be soldered in without the need to plate the housing all over. This can be carried out on any conductive base material. Any small or large components can be made solderable. The operation can be carried out in the field while the component is in place.
Phosphorous free nickels - Platron uses Nickels that do not contain Phosphorous, giving better flow characteristics for soldering or brazing and meeting specifications for Laser work.
Corrosion protection - Tin, Zinc, Nickel, and other corrosion protection using much thinner deposits than conventional tank plating.
E.M.I. and R.F.I. shielding - Tin to meet F.C.C. and all current E.M.I. and R.F.I. shielding specifications. This service can be carried out at our facility for small components or on-site when involving large equipment.
Electroless Nickel touch-up - Platron repairs damaged or defective Electroless Nickel or other tank plated deposits
Lasers - Gold for reflectivity or Nickel for erosion resistance on laser mandrels.
Bus bars - Silver or Tin on bus bar connection areas in production. As a repair this can be done in place without removing the bus bar from its location.
Ultrasonics - 24 carat soft Gold to improve bonding
Diffusion bonding - Silver on dissimilar metals to promote bonding.
Optics - Nickel black for absorption surfaces and optical work.
Anodize - Platron offers a Selective Anodize service on Aluminum parts. Chromic Type I, Sulphuric Type II, Phosphoric and hard anodize can be applied.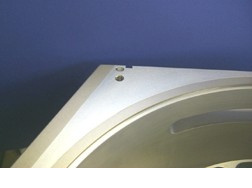 The aluminum component (approx 30"x30"x12" only a corner is shown) is used in an extremely corrosive environment. It is critical that the surfaces that make contact with mating parts are free from corrosion to maintain electrical continuity. The two areas shown (the gray bands) have been Selectively Plated with 0.0003" to 0.0005" of nickel. This keeps the surface free of oxide while avoiding the problems of maintaining tight tolerances and adhesion of plating that would result from plating the part all over.

Back to top


---
Mechanical Applications
Corrosion Protection - Platron can apply deposits of Nickel Cadmium, Indium, and other corrosion resistant materials. Selective Plating deposits are dense and fine grained, therefore they can provide corrosion protection using much thinner deposits than conventional tank plating.
Hard Facing - It is not always necessary to go through the time consuming and expensive heat treating and post machining cycle to acheive a hard surface. A hardness of Rockwell C-40 to Rockwell C-68 can be achieved with Nickel and Nickel based alloys using Selective Plating.
Metal joining - Do you have metals that will not wet or dissimilar metals that need to be joined by soldering or brazing? Platron can deposit solderable or brazeable materials onto the surface to enable easy and efficient joining and deposit the exact alloy required to form the actual joint.
Mis-machine - Any inside diameter, outside diameter, or flat surface that has been mis-machined can be brought back to the original dimensions using Selective Plating.
Wear - Parts that have suffered in-service wear, damage, or corrosion can be rebuilt using Selective plating.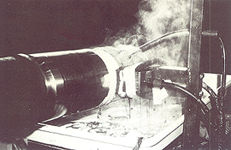 An axle shaft from a high speed commuter train system becomes worn on its bearing fit area which is a 0.006" interference fit with the wheel. To save the axle once it is worn, nickel is Selectively Plated onto the bearing area. Using a wheel press and 60 to 100 tons of pressure the wheel is force fitted onto the Selectively Plated bearing area. Selective Plating has been used on this type of axle as well as railroad axles for over 20 years.

Back to top


---


Field Service Applications

Platrons' Selective Plating system is completely mobile and can be brought on-site to repair parts in place, ranging in size from giant turbine shafts to small electrical components. Areas that have been worn down or damaged, such as bearings or seal surfaces, can be repaired in place. Nicks, gouges and corrosion pits can be repaired without reworking the entire part. Some successful applications include:
Turbine shafts
Turbine couplings
Large crank shafts / drive shafts
Large valve seats
Ball mill bearing journals
Ore shaker shafts
Off-shore marine components
Slip rings and commutators
Printing and calender rolls
Large cylinder / Yankee dryer
Bus bars / circuit breakers
Hydraulic cylinders / rods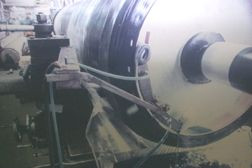 The 38" diameter bearing area on this 30ft long roll from a paper mill was 0.080" over size. Selectively plated copper was used to restore it to its original dimension plus an aditional 0.010" to allow for a final skim cut to maintain concentricity. All of this was done at the customers facility.

Back to top