Specialists: Selective Plating
Main Office:


Platron
26260 Eden Landing Road, Hayward, California 94545
Phone: (510) 781-5588 Fax: (510) 781-5589
Email:


Business Hours: Monday - Friday 7:00am - 4:00pm
Our Certifications:
ISO 9001 : 2008

AS 9100C
(technically equivalent to EN 9100 : 2009 and JISQ 9100 : 2009)
What is Selective Plating?
Simply defined, it is a special electrochemical process used to deposit any of a wide range of metals or metal alloys onto almost any conductive material and virtually any type of surface without immersing the part in a plating bath. It offers several significant advantages over conventional plating processes, the most important of which is the ability to deposit metal precisely onto the area where it is required, and in varying and closely controlled uniform thicknesses. The deposits have excellent adhesion, are dense fine grained, low in porosity and are deposited without generating any damaging heat. The Selective Plating process is portable and can be taken on site where parts can be worked on in place. The process can be used on single parts or high volume production runs.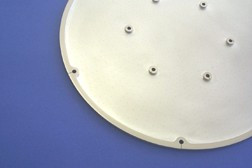 The outer lip and the six raised areas on this aluminum component have been Selectively Plated with Nickel. Selective Plating only plates precisely on to the areas where it is required and will not attack adjacent areas. On this component the adjacent areas have a 16 rms finish.

For more details on specific advantages of Selective Plating, click on one of the following categories:

Selective Plating only plates or anodizes the area you require

Superior adhesion

Increased wear and corrosion resistance

Accurate thickness control

Portability of Selective Plating

Military and Civilian specifications

Selective plating chemicals do not attack base metals

Selective Plating can be applied to parts big and small.

Cost saving applications of Selective Plating can be broken down into four main categories:

Design Engineering

Mechanical Applications

Field Service Applications

Electronics Applications
Theory behind conductivity:

Understanding electrical conductivity.

How electro deposition works.

Electrodeposited Gold.

Electrodeposited Silver.

Electrodeposited Nickel.